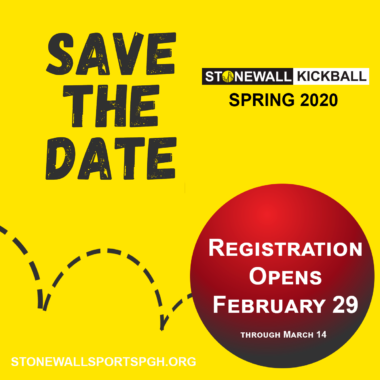 Registration for kickball opens on February 29 at 12:00 p.m. and will remain open through March 14 or until the league reaches capacity.
All teams will be in ONE division with league play at Arsenal Park in Pitttsburgh's Lawrenceville neighborhood.  Games are on Sundays starting in April with game times possible between 10:00 a.m. at the earliest and ending at 6:00 p.m. at the latest (depending on number of teams).
Online registration occurs via our LeagueApps portal at stonewallpittsburgh.leagueapps.com for $50 per player.
Team Captains should register as a Captain with all other players registering as a Free Agent.  After completing free agent registration, team captains must invite players to teams through the website.
Team shirt colors can be requested after there are 14 players rostered and paid in full. Colors are available on a first come, first serve basis.  Teams with 18 players will be considered full teams and unlikely to be assigned free agents unless requested by leadership.
Need a team? 
Connect with team captains via LeagueApps or on our kickball Facebook group.