While Stonewall Bowling Pittsburgh is a recreational league, league rules are in place to ensure all members understand how the league is run and what you can expect by participating in the league.
League Organization
The league will bowl at AMF Noble Manor Lanes at 7:30pm with practice starting at 7:20pm. Each season consists of 1 welcome week, 8 weeks of scheduled league play and a tournament week. Both the 1st place team following 8 weeks of league play and the tournament champion are recognized on the league trophy.
League fees must be paid at the time of online registration, as directed.
All bowlers must observe the rules and regulations of AMF Noble Manor Lanes, which includes not bringing outside food and beverage, not smoking in designated areas and responsible use of their facility.
Teams:
Team rosters must consist of at least 3 players and up to 6 players.  Teams must designate a captain to be the primary point of contact for league communications.  Captains are also responsible for identifying the scored bowlers per game on the provided score sheets prior to weekly play.
It is highly recommended to be flexible to accommodate schedules and availability that teams roster more than 4 bowlers. See additional absence and scoring rules below. Captains will opportunity to pick-up free agents using the online registration system. Network with interested bowlers in our Facebook Discussion Group.
Schedule:
The league schedule will be randomly generated and provided prior to the start of league play.
Averages and Handicap:
League starting averages of all players shall be determined in the following order:
Prior season's league average, within one year
Highest average from the most recent winter season in any USBC league, based on 21 games or more.
Highest average from the most recent winter season from non-USBC league with verifiable standing sheet, based on 21 games or more.
Returning averages will be used until the bowler has completed 6 games of competition in the current season. After 6 games, a new current-season average and handicap will be used for scoring.
Bowlers who do not have a qualifying average outlined above will establish their average the first session they bowl.  Bowlers must establish an entering average before scores will be counted in team play.
The league will determine wins and losses on a handicap basis. Handicap will be 90% of the difference between a bowler's average and a scratch figure of 225.  No negative handicaps apply for averages over 225.
Scoring:
Team position standings shall be determined on a 7 point basis, with 2 point(s) awarded for each game won and 1 point awarded for the high team series in each match.
League standings will be determined based on total number of wins.  For the purpose of playoff seeding, ties in the league standings will be broken by Total Scored Pins.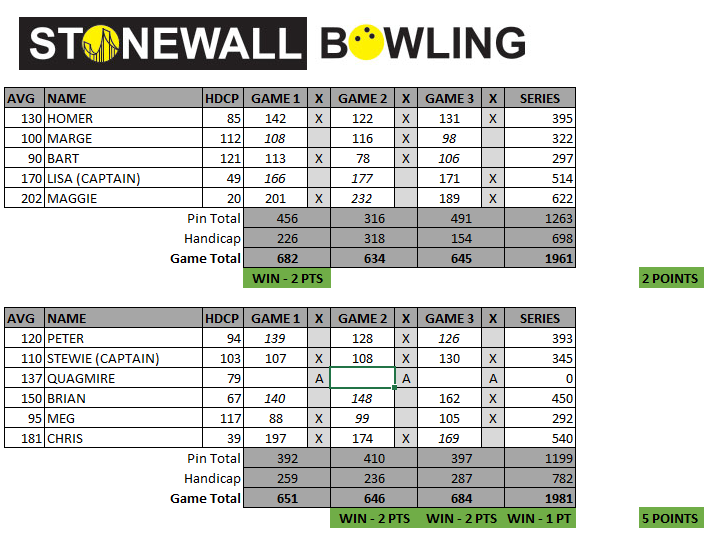 Weekly Play:
Prior to the start of each week, the team captain, or delegate, must identify the players present and the 3 players per game that will be scored in league play.  If a team has more than 3 players present, each player must be scored at least once.  It is as the discretion of the individual player, if they would like to bowl when their score is not factored into the team score.
NEW FOR 2023:
Any games started after 9:30 p.m. will be bowled in a 3v3 match only. This means that bowlers which do not count toward the team score are not eligible to bowl in those games.
Each game, the total pins plus handicap for each scored bowler will be added together for a total game score.  A win is worth 2 points and a tie is worth 1 each.  No tie-breakers exist in regular season play.
A bowler who arrives late may enter the game provided 3 frames have not been completed. In this situation frames missed may be made up.
When bowling in a known forfeit situation or scheduled against a non-existent team, the team will flip a coin to bowl against a different present team of the league. Heads = lane to the left. Tails = lane to the right. (Wrap around rules apply. ex: Left of Lane 1 is the right-most lane.)
The minimum legal lineup of 2 players must be available before the completion of the third frame of each game, or forfeit the points for that game.  In the event that only 2 bowlers are present, the team may select one rostered player to receive 80% of their average (but 100% of the handicap).
Special Absence: In the event a team is unable to provide a legal lineup to do an injury, the team captain may request to use a substitute bowler from another team whose scored average is +/- 10 pins from the injured bowler. This request requires approval from both captains and a member of league leadership.
Tournament:
The league uses an "eliminator" aka "survivor" format for the tournament where teams scoring lowest after each round are "knocked out" of the tournament until only two teams remain to bowl for the championship title.
All 24 Teams Bowl In Round 1.
18 Teams Advance To Round 2 based on Game 1 scores.
10 Teams Advance to Round 3 based on Games 1+2 scores.
2 Teams Advance to Championship Match based on Games 1+2+3.
Championship Match a sudden-death, head-to-head match with the winner crowned the Tournament Champion for the season.
NEW FOR 2023:
To reward the top 4 teams after 8 weeks of league play, the top 4 teams are exempt from elimination after only one round of the tournament. Exempted teams will need to bowl round 1, but cannot be one of the first six eliminated teams. They must still meet eligible criteria following two games to advance to round 3.
In the interest of time, the league limits the number of bowlers to 3 per game during tournament play. Extra bowlers may bowl on extra lanes freely, based on availability.
As teams advance between rounds, teams must make reasonable efforts to include all present rostered members in their scored play by the end of the third game.
In the event of a tie during elimination or in the championship match, tied teams will each bowl an "extra frame" until the tie is broken.