Bocce is excited to return for its 5th season with all the things you love best: a socially-competitive atmosphere full of glowing balls, witty team names, and ball jokes galore. Game play will occur on Thursday nights at Arsenal Park in Lawrenceville, beginning at 6:30pm, August 19 through October 7. The season is set for 6 weeks of play followed by a championship tournament.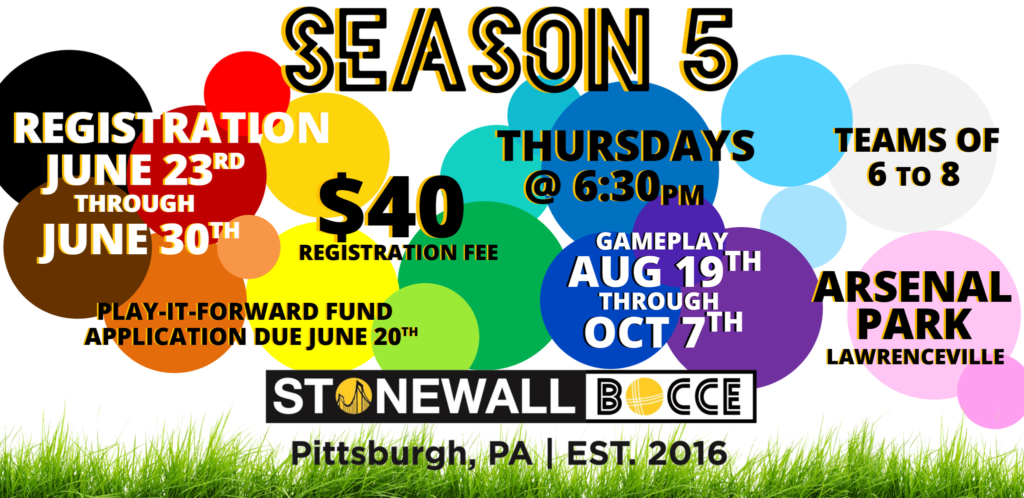 Online registration is required for all participants at stonewallpittsburgh.leagueapps.com. The registration cost is $40 online. Registration will open at 12pm NOON on June 23, 2021.
The Stonewall Alliance recently announced the development of a Play-It Forward Fund designed to "support our Stonewall community by offsetting registration costs with the belief that financial access should not be a barrier to participation in our leagues or programs." The application deadline for bocce is June 20.
Specifics about the t-shirt/kick-off party, the return of Bocce After Dark, and other information specific to health and safety during play are forthcoming. Join the Bocce Facebook Discussion Group for updates.
---
Important Dates: Fall 2021
June 20 • Play It Forward Application Deadline
June 23 to 30 • Online Registration
August 19 • Week 1
August 26 • Week 2
September 2 • Week 3
September 9 • Week 4
September 16 • Week 5
September 23 • Week 6
Playoff Date TBD