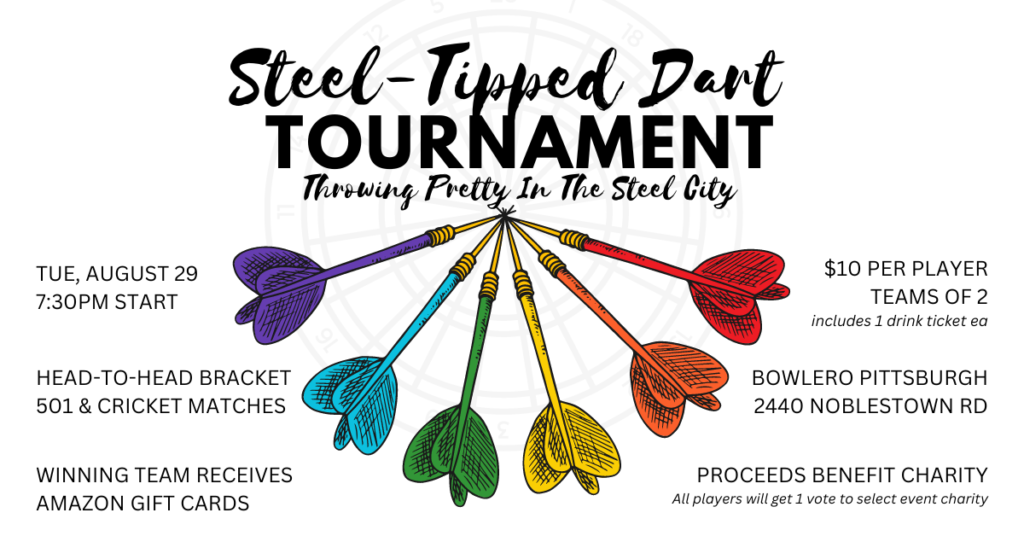 On August 29, Stonewall Pittsburgh is hosting a special steel-tipped darts tournament at Bowlero Pittsburgh to benefit a charity selected by the participants.
For just a $10 donation, participants will play in teams of two with the ultimate prize of gift cards to the tournament winners.
Each entry fee includes one drink ticket provided by Bowlero Pittsburgh and Stonewall Bowling Pittsburgh.
Bracket seedings will be drawn at 7:30pm with play to commence immediately. Popular dart games like 501 and Cricket are the intended games for each match of elimination play, but will be subject to the event turnout.
---
Sample Double Elimination Structure:
Undefeated Bracket: Cricket
Single-Loss Bracket: 501
*Tournament reserves the option of imposing a time limit on Cricket matches depending on event turnout. In this instance, the team with the most number of closed numbers would be declared winner.*
---
No pre-registration is necessary. On-site registration will begin at 7:00pm and can be accepted by cash and Venmo.
Interested participants are encouraged to connect with the event on Facebook for interim updates.
"Several bowlers stick around in the lounge area each week and toss darts. While running a dart tournament after a night of bowling would make for too long a night, a tournament in between bowling seasons is perfect!" – Brian McCollum, Commissioner of Bowling
Event proceeds benefit a 501(c)3 non-profit charity to be voted on by the participants at check-in. Additional on-site fundraising is being explored to maximize charity impact.
Bowlero Pittsburgh is located at 2440 Noblestown Road, Pittsburgh, PA 15205. The venue is non-smoking indoors and has free parking. For questions or to donate a raffle prize, contact Brian McCollum, Commissioner of Bowling.