Stonewall Pittsburgh is hosting Yoga In The Park sessions as an opportunity to safely gather and stretch our bodies following a stressful summer.
Yoga is for every Body!
Led by Stonewall member Michelle Kaminsky at Arsenal Park, the sessions include gentle movement and postures designed to reduce stress, increase self-awareness and builds strength and balance. Focusing on skills for beginners and options for the intermediate yogi. The 45-minute sessions are free to guests and will be offered on two upcoming dates: Sunday, September 20 @ 11:00 a.m. and Saturday October 3 @ 11:00 a.m.
Please bring your own mat or towel.
While it is a free event, we're hoping that those interested will RSVP on Facebook to help spread the word and help estimate attendance.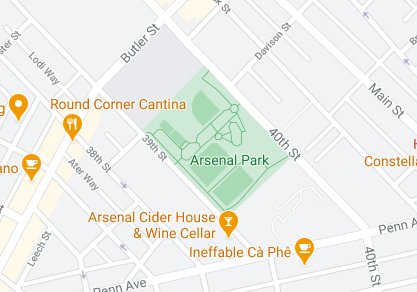 Arsenal Park is located between 39th Street and 40th Street, east of Butler Street and west of Penn Avenue. Yoga will take place on or near the ballfields based on ground conditions. Finding the Stonewall group won't be difficult.
Health & Safety Guidance
We encourage/recommend mask usage when entering/exiting (not-actively participating) the yoga area with others, particularly when within the CDC recommended 6-foot distance. Event staff will be on-site to ensure mat placements in the park follow guidelines.
Participants who identify as residing in the same household would be permitted within 6 feet of each other, if all members are comfortable.
Sanitizing stations will be present at the event provided by Stonewall Alliance. Participants are encouraged to sanitize before/after each entering the yoga area.
Participants who are sick or not feeling well are required to stay home. If symptoms appear while at the court, the leadership board retains the right to ask the player to leave and seek medical care.
No spitting on or off the courts/yoga area.