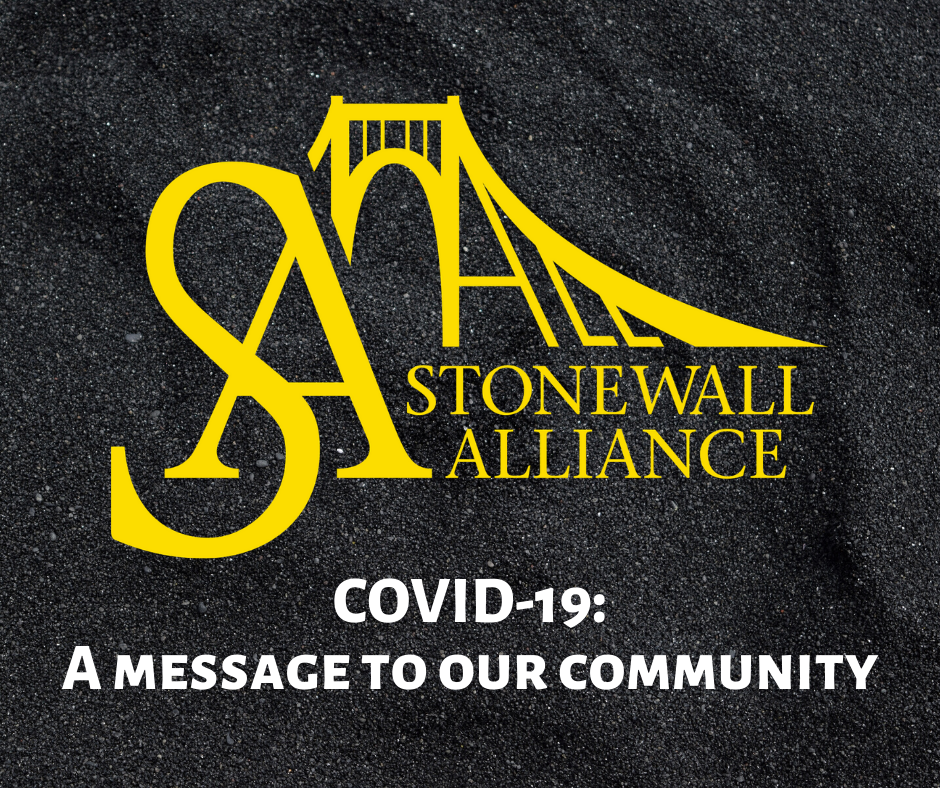 FOR IMMEDIATE RELEASE: MARCH 17, 2020
Stonewall Alliance Leadership has been closely monitoring the coronavirus (COVID-19) outbreak and weighing our options regarding how to best proceed with our community's activities.
After much careful consideration, we have decided to cancel the following:
Stonewall Dodgeball playoffs, scheduled for March 22
Stonewall Spring Kickball, season in its entirety (refunds will be issued)
Bridge City Flag Football, season in its entirety (refunds will be issued)
Dodgeball end-of-season party, scheduled for March 22
Bridge City Flag Football kickoff party, scheduled for March 21
Stonewall Night Out: Axe Throwing, scheduled for March 25
Kickball kickoff party, scheduled for April 3
Please know it is with genuinely heavy hearts that we announce this decision; of course we didn't want to see these events cancelled. But given guidelines from CDC, PA Health Department, and City of Pittsburgh, we simply saw no other viable options that keep our community's well-being at number one on our priority list.
We truly believe this is the best decision to ensure we all rise out of this better and stronger than ever.
Continue reading for some quick resources to make this as seamless as possible. And as always, please reach out to us if you have any questions or concerns: info@stonewallalliance.org.
Stay healthy, everyone. We'll see you soon.
Stonewall Alliance Leadership
FAQ
What guided this decision?
As of March 15, CDC, in accordance with its guidance for large events and mass gatherings, recommends that for the next 8 weeks, organizers cancel or postpone in-person events that consist of 50 people or more throughout the United States.
Please visit CDC website to learn more: https://www.cdc.gov/coronavirus/2019-ncov/index.html
Will I receive a refund for Stonewall Kickball and Bridge City Flag Football?
Absolutely. Please expect a full refund from us within 7-14 business days.
What if things get better before the end of those seasons?
At this time, we believe it's best to play it safe to do our part to flatten the curve of infection rates. That being said, leadership unanimously agreed that we will continuously re-evaluate our options so we can stay ready to jump into action should the situation drastically change.
How can I stay connected to Stonewall in the meantime?
We are deeply aware that folks rely on Stonewall for community, and we'd be remiss to not explore some innovative options to bring us all together remotely. We're already putting our heads together – stay tuned. Have an idea to share? Email us! info@stonewallalliance.org